Select the week you want to create a rota for using the small 'calendar' icon found in the top left of the rota page, next to the dates of the week already selected. Clicking on any single date will select the week in which it falls.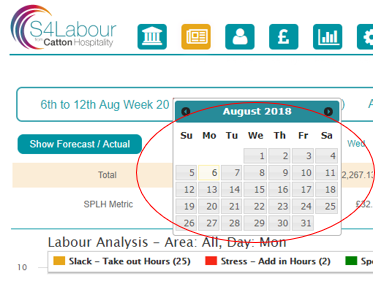 Prior to building your rota, you will need to forecast expected sales for the week. See 'Allocating Sales Forecasts': https://s4labour.zendesk.com/hc/en-gb/articles/115003099726-Allocating-Sales-Forecasts
Important Note: When entering your rota you should use numbers only. Colons and semicolons are unnecessary, whilst period points will cause the system to reject the entered shift. An example of a correctly entered time would be 0830 to represent 8:30am.
Live update As you allocate shifts across the week the labour analysis graph seen above will adjust live, showing whether you can expect Slack or Stress.
True cost You can also check the number shown in the far right-hand column of your rota to see the actual cost to the business of an employee in the week. Note that this figure includes holiday accrual and employer's NI contributions where applicable, so it will typically be higher than just the employee's pay.